LifeWave's AcuLife patches are a new technology for providing pain relief and improving the overall quality of life for your horse. LifeWave's technology accomplishes this by working with your horse's body, not against it. You care about the health and well-being of your horse. Now you can decrease your horse's pain and inflammation in a safe and all-natural way. This is how your horse's body is supposed to function, both now and all through its life. This is LifeWave.
How would you choose to improve the quality of life for your horse? Would you give him less pain? We know that you care about the health of your horse.
What if there was a way to relieve his pain without harsh drugs? Now there is!
Introducing AcuLife
Imagine rapid, drug-free pain relief for your horse... Now it's yours with LifeWave.
Safe & natural pain relief
Can be used for whole body and localized pain
Convenient & easy to use
Fast results
Reduces inflammation
LifeWave's exclusive non-transdermal patch system utilizes new technology to gently stimulate acupressure points – literally improving the flow of energy in your horse's body for improvement of pain and discomfort, within minutes of use!*
New Pain Relief Technology
You're probably accustomed to thinking that you need to put something into your horse's body to improve their health. While proper nutrition, water and exercise are necessary to maintain the health of your horse, their body also requires a continuous flow of energy.
It's been known for thousands of years that specific frequencies of light can cause specific changes within the body. When we go out in the sun, a frequency of light causes our body to make Vitamin D. Another frequency of light (UV) will cause our body to make melanin, the chemical that gives us a sun tan. LifeWave's technology uses this same scientific principle.
What is Acupressure and Acupuncture?
Acupressure is a type of Oriental healing art based on ancient Eastern medicine. A practitioner will typically stimulate acupressure points on the body using fingertips to apply gentle, but firm pressure to relieve pain and discomfort and promote good health.
Acupuncture is similar to acupressure, except that acupuncture involves a practitioner using small needles to puncture certain pressure points along the body in order to help the body attain homeostasis, in order to better heal itself. Both acupressure and acupuncture promote the restored balance of energy throughout the body and for many years these healing modalities have been applied to animals with great success. In fact, acupuncture has been recognized by the American Veterinary Medical Association (AVMA) and the American Association of Equine Practitioners (AAEP) as an accepted and scientifically valid treatment modality.1
However, unlike acupuncture, LifeWave's self-adhesive AcuLife patch is a needle-less way to apply the same principles of Oriental medicine and acupressure used to balance and improve the energy flow in horses. The result is a natural way to improve the quality of life for your horse, without pharmaceutical drugs, stimulants or even needles, entering your horse's body.
AcuLife Gets Results
Take a look at the actual before and after pictures below and notice how the reduction of "hot spots" is clearly evident. This local thermal effect means that excess heat is reduced to an injured area and what follows is reduced pain, reduced soreness, and restoration of range of motion to the specific injured site.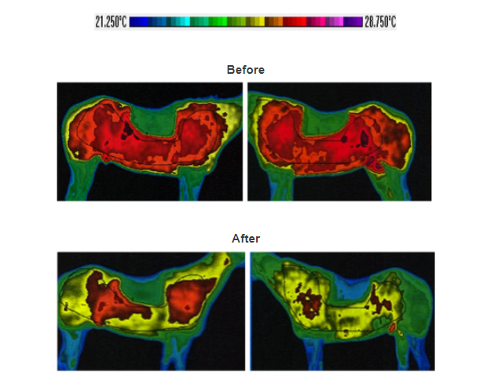 This infrared series reveals the two sides of the horse and how the thermal difference is very clean on the right side of the horse with great change noted to the right shoulder and neck regions. Acupuncture palpation data showed that overall horses responded well to wearing LifeWave's patches and exhibited a consistent reduction in the pain scale point.*
AcuLife is a medical device for your horse that you can get without a veterinary prescription. It's also an easy to use product - anyone can use AcuLife to provide pain relief for their horse!
*A $25 fee will be invoiced to those who do not show up for their appointments or do not give at least 24 hour cancellation notice*
Please consult your veterinarian or medical physician for diagnosis and treatment of serious injuries or conditions.

© HealthEquine Therapies 2018. All rights reserved.