What is Thalassotherapy?
Thalassotherapy is the therapeutic use of seawater in the form of marine products like algae, seaweed and marine mud to promote health & wellness.
What does Thalassotherapy mean?
The name Thalassotherapy comes from the Greek word thalassa ("the sea") and therapia ("treat") - Equithalasso: Thelassotherapy for horses
Where does Thalassotherapy originate from?
The use of heated seawater for therapeutic benefits dates back to the Romans, who also loved soaking in hot minerals springs.
Modern thalassotherapy was pioneered in France, which still has more thalassotherapy spas than any other country.
The principle behind thalassotherapy is that repeated immersion in warm seawater, marine mud, and protein-rich algae helps restore the body's natural chemical balance.
When immersed in warm seawater, the body absorbs the minerals it needs -- trace elements of magnesium, potassium, calcium, sodium and iodide --through the skin
What is Equithalasso?
Equithalasso: Thelassotherapy for horses

Equithalasso is an equine product collection made exclusively from natural raw materials extracted from the sea. These drug-free, high quality, lab-certified products provide a variety of treatments tailored to your horse's specific needs in performance or recovery.
Prepare joints and tendons to help prevent sprains and strains from heavy work or competition
Helps to detoxify, reduce tension and soothe muscles and tissues
Made from natural products from the sea
100% non-drug so there is zero interaction with blood/urine testing
Certified by high-quality European laboratories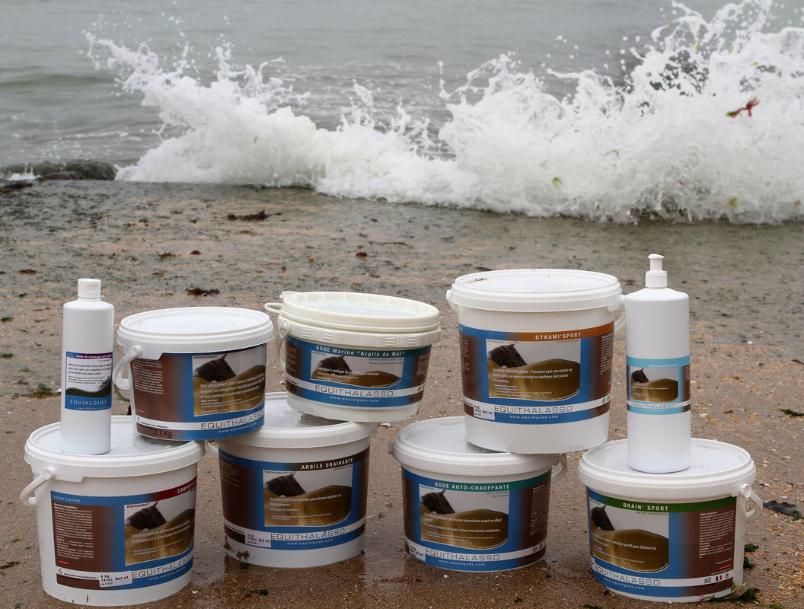 Who created Equithalasso?
Benedicte Lucazeau, the creator of the Equithalasso line, has specialized in equine and canine osteopathy & physiotherapy for almost 20 years. After extensive research and field testing, she launched the Equithalasso line in France in 2009. Equithalasso products are a unique and innovative concept that are part of a complete training and wellness regimen for equine athletes.
In 2011, she founded EQUIPHYSIO FORMATION, the first certified training of Masseur Physiotherapist Animalier in France geared towards physical recovery & algotherapy in horses and dogs.
What can Equithalasso do for my horse?
Before competition or work:

Helps to physically prepare muscles and joints for the increased level and duration of activity

Removes muscle tension to

facilitate

movement

and impulsion

Prepares joints and tendons to help prevent sprains and strains
After competition or work:

Aids in and accelerates recovery
Eliminates the toxins that build up post-effort
Eliminates muscle tension and muscle soreness
Soothes limbs and tissues: heat, swelling and strains
*A $25 fee will be invoiced to those who do not show up for their appointments or do not give at least 24 hour cancellation notice*
Please consult your veterinarian or medical physician for diagnosis and treatment of serious injuries or conditions.
© HealthEquine Therapies 2020. All rights reserved.