HealthEquine Therapies wanted to get on board with our clients show season & is proud to follow along the journey of three riders and mounts in their chosen discipline as they compete in the 2019 show ring.
Chelsey Overell & Hickory - Jumpers
My name is Chelsey Overell. I have been riding since I was 5 years old. I own three horses Jackson, Pepper and Hickory. And run a small riding program out of MJM Equestrian Centre called Abbey Road Stables. I enjoy bringing along young horses and teaching riding lessons.
My current project is Hickory, a 8 year old Percheron Tb Cross mare. I bought Hickory in July 2018 where she was a pasture ornament and had minimal training at that time. We spent the summer learning the basics and went on a couple foxhunts in the fall. Over the winter we completed at a couple schooling Jumper shows. This summer we will be competing on the Central West Trillium circuit doing the 0.9m jumpers.
When I am not playing with horses you can find me running my own business called The Chestnut Tree Footcare and Orthotics. I am a Registered Chiropodist (foot specialist). I am also the horse show manager for the Hamilton Hunt Club Horse Shows.
I have known Lauren of HealthEquine Therapies for the last 10 years and she has been keeping my horses in tip top shape.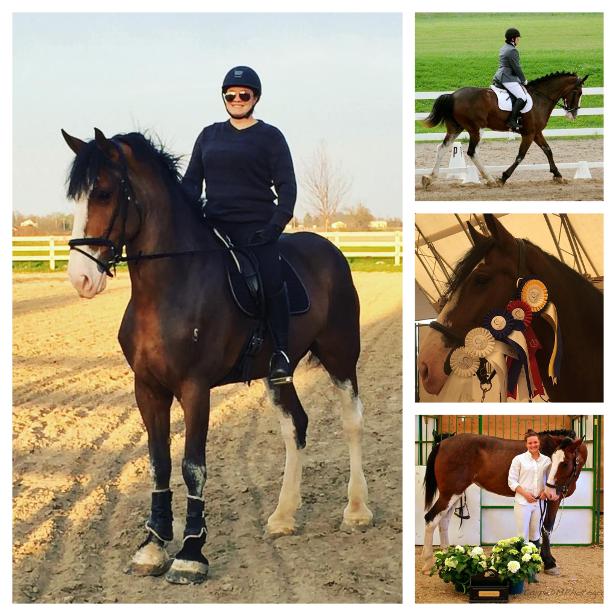 Nicole Deline & Willow - Dressage
Nicole's love of horses started from a young age, and after receiving riding lessons for her eleventh birthday, they became a permanent part of her life.
In order to progress in the industry and gain as much knowledge as possible, Nicole sought out opportunities to work under established professionals whenever possible. This drive has allowed her to work with two Olympic level riders, both in Canada as well as on circuits in Florida. It is through these experiences that Nicole was first formally introduced to dressage.
Currently Nicole competes at Gold/Silver rated dressage shows in Ontario under Jill Steadman, with her personal horse, a full Clydesdale named Willow. Willow is an 18 hand mare who is always willing to give it her all. Willow is currently competing at first with scores of mid to high 60's and is hoping to be competing second by the end of this year.
Touch of Class has been established with a firm belief in the importance of "schooling the flat". Whether a rider is simply looking to ride in a weekly lesson, or progress to the highest level of competition, each horse and rider team has a flat work program developed to fit their individual needs.
Nicole's array of knowledge in multiple disciplines has allowed her to develop several competitive teams through Touch of Class. Teams range from schooling level, to the Ontario A Circuit, in both jumpers as well as dressage.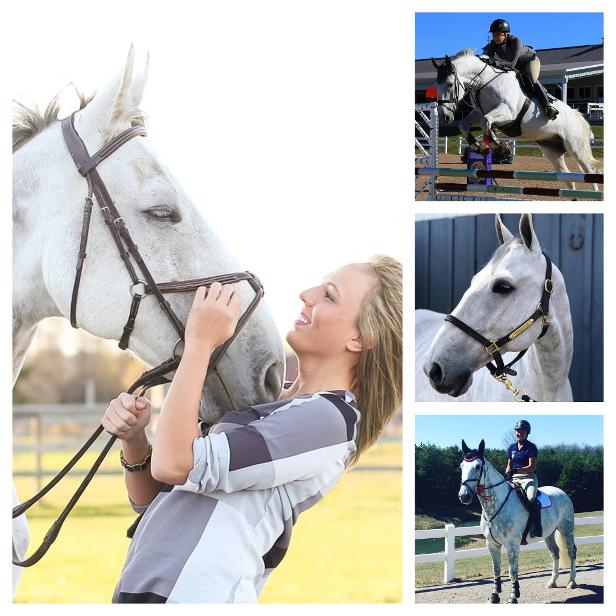 Katie Sormaz & Donovan - Jumpers
While my initial introduction to the equestrian world was through the hunters, I have been fully committed to the jumpers for about 10 years.
My goal for the 2019 show season is to begin moving up through the jumper divisions on the Ontario "A" circuit with Donovan, as well as introduce my young horse to the excitement of horse showing. While training at home, the focus will continue to be building on the necessary flat and technical jumping skills required to succeed.
Donovan is a 2007 registered Canadian Warmblood by Rio Grande, and is the true embodiment of the phrase "puppy dog personality". He has experience in the hunters, jumpers, and dressage, and while he clearly enjoys being in any of those 3 rings, he definitely shines in the jumpers.
This season we would like to build on our experience showing in Ohio at the World Equestrian Centre and develop the skills needed for the 1.10m ring.
Please consult your veterinarian or medical physician for diagnosis and treatment of serious injuries or conditions.

© HealthEquine Therapies 2019. All rights reserved.