Here's what horse owners have to say about HealthEquine Therapies!
"This is Addi, my daughter Jordy's barrel horse. We bought Addi in December 2016. When we purchased her I was so up on the air, as she had so many problems, she was antsy, wouldn't stop, shook her head, couldn't tack her without someone else holding her as she would take a chunk out of you, even putting a saddle on her she would try so hard to bite! So, like always, shortly after I got her home I had Lauren out to look over Addi. When she looked at her she could barely touch her let alone massage her, but Lauren being Lauren, she didn't give up and worked with her even harder and patiently. We noticed she had some ribs popped out on her back, which was so new to me, never seen ribs out on a horse. Lauren gave us lots of exercises to do and told Jordy to stay off of her for while. So we did as we were told and Jordy worked really hard along side Lauren, she was like Lauren's side kick! Lauren was great and called or messaged me weekly to see how Addi was doing, we had Lauren out every 4- 6 weeks to make sure she was feeling good all the time. Lauren hasn't come out for over 2 months now and Addi's feeling amazing!!! Addi and Jordy are now back running barrels better then ever and Addi is a completely new horse. She does slow work all the time, stands for hours to be groomed, tacks with no problems. Addi wouldn't be the horse she is now for my daughter if it wasn't for Lauren. She is amazing and I trust her 110% with all my horses!!"

- Jenn, Jordy & Addi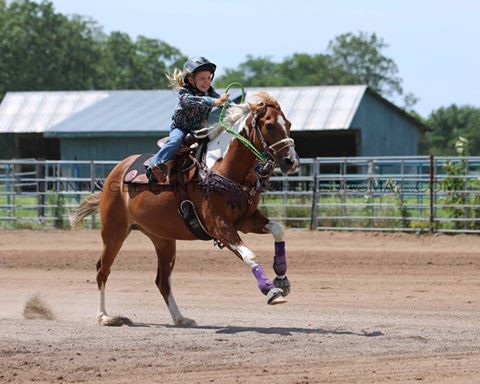 "Lauren used Equi-Tape on my horse Bisco and as she was applying it, she was informative in the steps she was taking to where Bisco would benefit from Equi-Tape. She created this incredible basket weave on Bisco's hind legs which was made to increase circulation for his edema. The tape has been on for 3 days now and the swelling that was previously in that area is completely gone. Not to mention, none of it has peeled off with the rainy weather conditions and general work. I would definitely recommend Lauren to any of my horsey friends for equine health care services."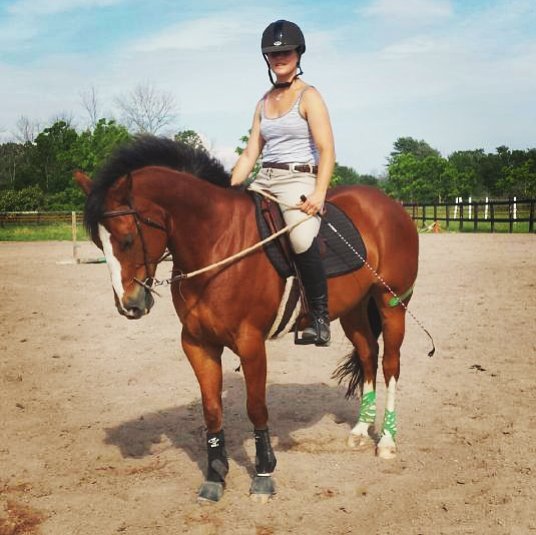 "In today's world of all things equestrian, emphasis is not only on riding the horse, but helping the horse to feel its best at all times.
Throughout the past year, Lauren has been an integral part of the mix in helping keep my Belgian/Thoroughbred/Welsh cross mare, Ginger, supple and happy. While not a competition horse, Ginger is in steady work and occasionally, given her confirmation & personality, gets tense and stiff. I believe that her regular massages with Lauren help to keep her supple and relaxed resulting in an overall better mental attitude when it comes to work.
Ginger's love for her massages is evident in each session with Lauren. At the end of each session she is a relaxed, happy mare. Lauren's patience and desire to help your mount is also obvious. She's even willing to jump in for last minute emergency calls!
I sincerely appreciate the time and effort Lauren puts in to keeping Ginger (aka Gingersnap) happy & healthy. I would highly recommend Lauren to anyone looking to enhance their overall equine program. Your horse will appreciate it."
- Melissa & Ginger
"When I chose to purchase my first (and second) horse, I also knew that I would need to put together a team that would help my horses feel good, be happy and healthy. It's important to me that I have the best support for my horses. Lauren will always be my #1 go to person for Equine Health Services. I have called on numerous times to massage my boys, seek advice on supplements and inquire about Equi-Tape (and I am sure more of her services in the future). She is always just a message away. She answers my questions promptly and even does her research if she isn't quite sure of the answer. I cannot say enough great things about Lauren. I am not sure who is happier after our appointments; me or the horses. Thank you Lauren for all you do! I am so blessed to have someone like you in my corner to bring otu the best in my horses."
- Lindsay, Eddie & Chase
"Lauren has been great with my mare, Karizmuh ! Her first session was a last minute one. Lauren was out to work on another horse in the barn and Karizmuh was having some stiffness issues. It was a damp cold evening but Lauren eagerly did a full assessment and session with her, took all of the information that I relayed and was able to pin point all of her problem areas and work on them. Karizmuh really seems to like Lauren and her approach! There was a noticeable difference in Karizmuh the next ride and she felt great! Lauren is really able to explain the anatomy of the horse and how all the muscles and ligaments work and why the horse may be sore in certain areas. She gives stretches and exercises that will help to strengthen the horse, and keep their muscles loose. Lauren has always gotten back to me right away and made appointments to come out within a week. I recommend Lauren to anyone who is looking for a great massage therapist for their horse(s)!! "
- Terra & Karizmuh
"Lauren has been nothing but helpful when it comes to my three year old Sadie. In the summer/fall of 2014 Sadie came in from the field with a large hematoma between her front legs and after two months of veterinary treatment (drainage, vitamin K shots, and blood work) we decided to turn to Lauren. After the first session there was about 90% decrease in the size of the hematoma, the rest went away in about a week and a half. Lauren has been nothing but kind and helpful to us. Today Sadie receives massages just to make sure her muscles are growing and stretching properly. With the help of Lauren I now have a happy hematoma-free three year old that is growing like a weed! Thank you so much Lauren for all that you do for Sadie."
- Gaby & Sadie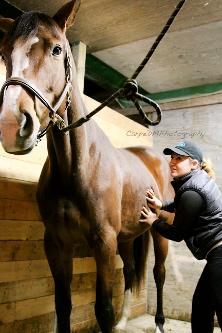 "Dear Lauren, Thank you for the ultrasound treatments that definitely helped accelerate the healing of a very bad hematoma that my 2 year old sustained. Your treatments were very comprehensive and thorough. My 2 year old is back into work after nearly 10 weeks off."
- Verna & Beamer
"Lauren is the consummate professional. Her business practices are "A" one. She is accessible, knowledgeable, punctual, and has a great work ethic. The connection she establishes with the horse allows her to find and treat the problem. My 24 year old thoroughbred is usually wary of new professionals, but he has welcomed Lauren into his stall and onto his 'team'! He knows Lauren can help him in general and also specifically if he has had a problem or trauma. And to top it off, Lauren follows up!! Look no further for a massage therapist!"
- Katherine & Bruce
"After two sessions, Willow's trot has been more fluid and she isn't shortening her stride on her left hind at the trot anymore. We still do the hip stretches and it has helped her as well. She is now able to walk-trot-canter (lightly) since her second session which was just over a week ago. Willow absolutely loves the sessions and Lauren does an amazing job working on the baby 17'3 hand Clydesdale. "
-Danielle & Willow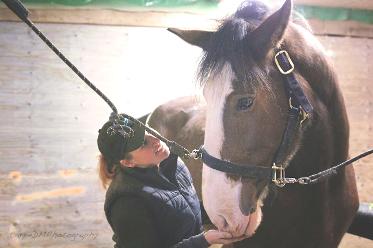 "Lauren has been a beneficial addition to my racing stable. Lauren's ability to work with horses to navigate and discover specific areas with issues in both a treatment and preventative mind has proven to be a success on and off the racetrack. By Lauren working with Trainers and Caretakers to provide a daily program to work on in her absence between appointments, has drastically improved my horses attitude, gait and soundness. Simply, my horses are happier as a result of Lauren's attention to detail and program. Her ability to work with nervous or "hard to evaluate" horses is incomparable. I am happy to have Lauren be a strong player of "Team Fork". "
- Sarah & Fork
"Brodie is the typical sensitive thoroughbred, he is very worried when new people are around him and becomes very tense. I had Lauren out to do a massage on Brodie and he was being his typical self by trying to twitch her hands off every time she touched. I didn't think the session was going to go anywhere knowing how he acts with massage, chiropractic etc; but to my amazement Brodie was actually enjoying his massage. Lauren is the one of the first people that has been able to work with Brodie. Lauren is quite the gifted person, she is not only able to connect to horses through physical massage but through a much deeper level. The Reiki Lauren preformed on Brodie during his sessions, was almost in a sense, magical. He went from twitchy, sensitive thoroughbred, to a horse that was in a relaxed state and finally enjoying a massage. For what Lauren was able to do with Brodie, I am very grateful."
- Claire & Brodie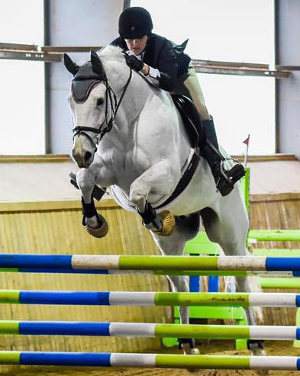 "I have owned my pony, Abbey, for 4 years now. Until a couple months ago Abbey had automatic lead changes, but I noticed she was having a hard time switching her back end in one direction. As soon as Lauren watched Abbey's movement she could pinpoint what was wrong with her. She did a very thorough job starting from the head and slowly worked her way down Abbey's body. Lauren was not only able to explain everything she was doing, but she was also very good at explaining WHY she was doing it. In the days to follow, Abbey was much happier while being ridden, was able to work in straighter lines and feel more balanced. With the stretches Lauren gave me and a couple more treatments, hopefully Abbey should be back to 100 percent in no time. Thanks Lauren ."
- Chelsey of Abbey Road Stables
"Lauren is top notch! She is always professional, informative and the horses really respond to her. She genuinely cares a

bout the their progress and checks in after treatment to ensure we have achieved the best results. She offers a range of services and we love learning from her at each visit."
- Rachel of Cazador Equestrian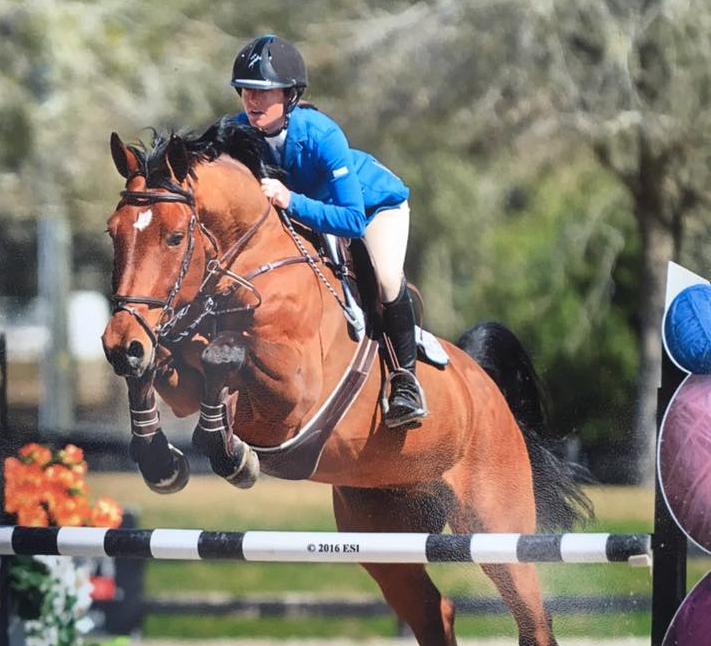 "I would highly recommend Lauren's services. She recently worked on my horse Sion, who had come in from the paddock with very swollen pecs and was visible sore in his entire front end. After a few days of rest, the swelling was not coming down and he was not sound. Lauren worked on him and within a day he was back to normal, and after 2 days was completely sound. She did a great job of pinpointing all his sore spots -not just the visible ones -and results could be seen not only in reduced swelling, but in Sion's expressions and behaviour. Lauren could explain everything she was doing to me and gave me some great stretches to help his sore spots out on a daily basis. Sion will most definitely have more treatments by Lauren as the results were fabulous. Now if she could just work on me!"
- Elizabeth of Hollybrook Farm
Thank you so much for your amazing work! Both the ponies feel amazing and are so happy and relaxed! Behaviour and movement has improved since you worked on them! Definietly recommending your service to people who need it. Cant wait for you to work on them again! ♥
- Ashlee, Jackson & Lexxi
Please consult your veterinarian or medical physician for diagnosis and treatment of serious injuries or conditions.

© HealthEquine Therapies 2018. All rights reserved