HealthEquine Therapies 2023Ambassador Riders
HealthEquine Therapies is delighted to offer our Ambassador Sponsorship Program. Meet our Riders!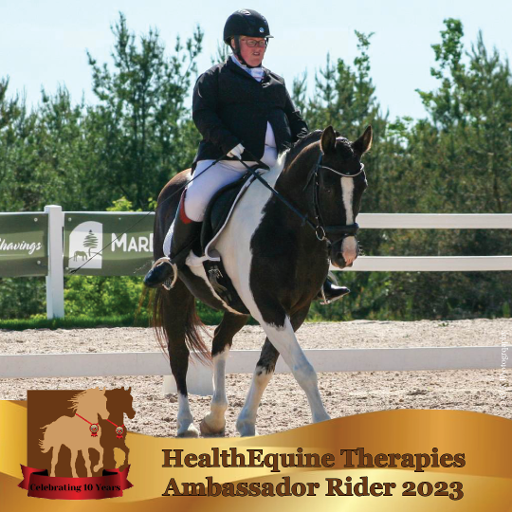 JUSTINE ROBERTS & COWBOY
Hi! I'm Justine and this is my 14 year old Paint x Canadian gelding Cowboy. Cowboy and I have been partners for the last 7 years and have dabbled in a wide variety of sports ranging from Ontario Extreme Cowboy Racing to our current focus, dressage. We are going to be debuting at 2nd level this summer and have schooling 3rd level at home.
This summer we will be competing with Caledon Dressage and are hoping to hit some of the Hamilton Hunt Dressage or Combined training shows.
I'm excited to see what this show season brings and keeping Cowboy in tip top physical shape is important to our success. I'm definitely looking forward to having Lauren added onto Cowboy's support team.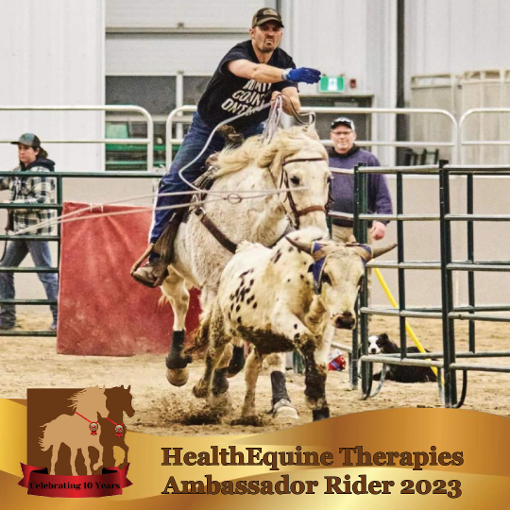 LINCOLN BOSCH & BEN
I'm Lincoln Bosch and this handsome quarter horse with me is Ben. Ben and I have been partners for 8 years in the team roping pen. I've been riding for 36 years and roping for 11 years.
My family and I have had Ben since he was 3 years old and he's as comfortable with me roping in a rodeo as he is with our 12 year old daughter trotting around a club show pen.
Together, Ben and I are planning on competing in the Ontario IPRA rodeo circuit and various team roping jackpots in Southern Ontario.
When I'm not riding, I am a certified fitter/welder by trade who's always eager for the work day to end so that I can chase a few cows with Ben.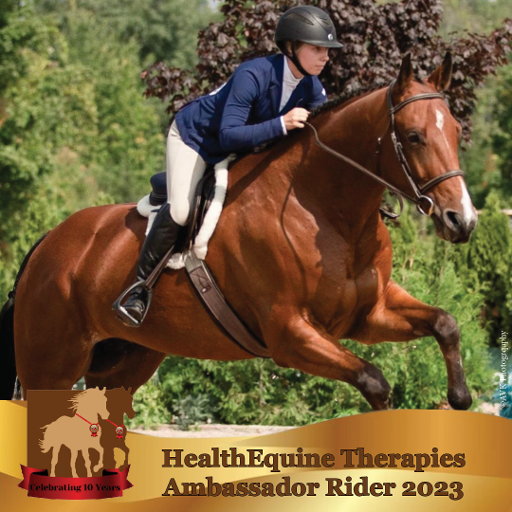 Jasmine Darte & SCOTTY
My name is Jasmine Darte. I have been involved with horses since the age of 4 when I first started taking lessons. After many years of myself, my two sisters and my mom being involved in the equestrian world, my family and I decided to build and open our own facility.
We have been running Benchview Equestrian Centre in Niagara-on-the-Lake since 2000 where I am currently the manager. I have owned, leased and sold several horses throughout the years with my focus being in the Hunters. I have shown on the central west zone of the Trillium circuit, as well as our local circuits and brought along numerous green horses. When not working in the barn or working on the greenies, I enjoy furthering my knowledge with an abundance of books covering many topics within the horse and industry.
This year I have the pleasure to work with and bring along a newer horse to the barn. Scotty is a 6 year old quarter horse. We have been working on the finishing touches of becoming a hunter. This year we plan to enjoy the season showing on the Silver Series circuit. Since still young we will start small and work on building solid confidence and finesse a lovely hunter division jump by jump. I am beyond excited to see what this show season will bring us!
CHEYANNE BOSCH & BEN
Hi, my name is Cheyanne and I'm 12 years old and love to ride my horse, Ben. Ben and I have been showing together since I was 4 years old. We've had lots of fun together and won some trophies and ribbons too! Ben and I will be competing in the junior division of the Ontario High School Rodeo this coming show season.
When I'm not at the barn with Ben or at school, I like to explore nature, or do arts and crafts. I also like Harry Potter and have started reading about all the adventures he has at Hogwarts. I cannot wait to have more fun adventures with my buddy Ben this year!
It's very important to me that Ben feels his best when we're off to a rodeo or club show competition. Lauren is going to be a big help to keep Ben's muscles feeling loose and ready to run!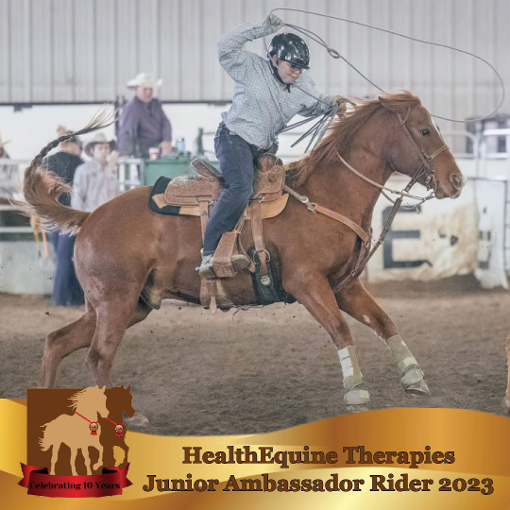 GABE REEDER & GOOSE
My name is Gabe and I am proud to be one of Health Equine Therapies Junior Rider Ambassadors. I am 11 years old and horses have been a part of my life since I started riding at the age of 3. I started roping two years ago and got my horse partner Goose one year ago. He is 6 years old. We're an amazing team! For the past year we have competed in many jackpots and rodeos, and I recently won the level one year end buckle for R.A.O [Roping Association of Ontario].
Goose is a fantastic partner, he is always eager to go for a ride or go chase steers. When he is not with me roping or riding he always loves to cause trouble in the pasture. Goose and I are excited to go to various rodeos and ropings throughout Ontario this year as well as to continue to participate in R.A.O jackpots. Thank you to Lauren for helping Goose perform at his best!
Please Consult Your Veterinarian Or Medical Physician For Diagnosis And Treatment Of Serious Injuries Or Conditions.
© Copyright HealthEquine Therapies 2023. All Rights Reserved