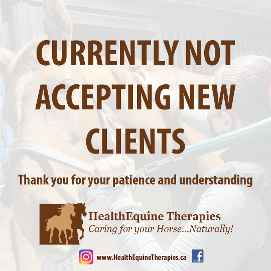 I am extremely flattered with the number of referrals and messages I'm receiving for appointments, but unfortunately I'm not able to take on new clients at this time. With my limited availability and increased biosecurity measures, it is just not feasible. We do have a waiting list if you wish to be place on it for the next available appointment. For those current clients who are not on a regular maintenance program, you will need to be placed on the waiting list as well. I truly appreciate your patience and understanding.
- Lauren Marlborough
P
Please Consult Your Veterinarian Or Medical Physician For Diagnosis And Treatment Of Serious Injuries Or Conditions.
© Copyright HealthEquine Therapies 2021. All Rights Reserved